The liberal "heroine" of the Texas live birth abortion debate turns out to be a common liar. According to a flowery and glowing tribute, attempting to spin her lies away, as the truth begins to seep out, the Dallas Morning News lists several of her worst lies.
In the vein of barack obama, Wendy Davis has admitted falsifying the majority of her personal history. Davis even lied under oath, testifying in a federal lawsuit over redistricting that, "I got divorced by the time I
was 19 years old," when in fact she was divorced at age 21.

She met Jeff Davis, a lawyer 13 years older than her, married him and had a second daughter. He paid for her last two years at Texas Christian University and her time at Harvard Law School, and kept their two daughters while she was in Boston. When they divorced in 2005, he was granted parental custody, and the girls stayed with him. Wendy Davis was directed to pay child support.

Other outright lies include: her second husband paid her way through law school and she divorced him the day after the last payment was made; her ex-husband accused her in initial court filings of adultery, and was awarded custody of their two daughters; and she first ran for city council in Fort Worth as a Republican.

The women that wore an adult diaper to maintain a filibuster against placing limits on live birth abortions, lied about her divorce, life living in a single wide mobile home, being a single mom and paying her way through law school.

In fact, according to the Dallas, her ride to law school was paid in full be her husband. In typical leftist fashion, she filed for divorce, THE DAY AFTER he paid the final payment.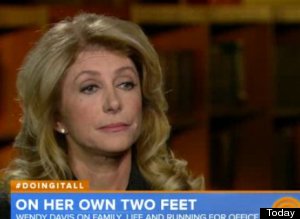 Her ex husband was granted custody of her two girls and SHE was directed to pay HIM child support.

For more you can read the highly partisan report here:
http://www.dallasnews.com/news/politics/headlines/20140118-as-wendy-davis-touts-life-story-in-race-for-governor-key-facts-blurred.ece